Order your limited edition Queen Elizabeth II Jubilee Medal
THE ROYAL CANADIAN NUMISMATIC ASSOCIATION is pleased to announce it has commissioned the striking of a medal to mark the diamond jubilee of the reign of Her Majesty Queen Elizabeth II.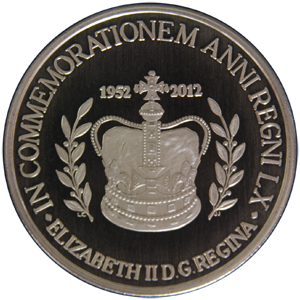 The obverse of the 44 mm medal, designed by well-respected Canadian medallist John Jaciw, features St. Edward's Crown, worn by the Queen during her coronation; the reverse has the RCNA logo.
Only 100 individual medals have been struck in commercial bronze. Price is $39.95 for the single commercial bronze.*
Order today by contacting the RCNA Executive Secretary (info@rcna.ca).
* The RCNA reserves the right to limit quantities purchased. Prices are inclusive of taxes; shipping and handling costs are extra.
| Item | Price |
| --- | --- |
| Commercial bronze medal (mintage: 100) | $39.95 |
| Postage & Handling - Canada | $3.00 |
| Postage & Handling – U.S.A. | $6.00 |
| Postage & Handling – International | $9.00 |
Order Your Copy Today
Our payment form is off line right now.
Commandez votre médaille (à tirage limité) du jubilé de la reine Élizabeth II
L'ASSOCIATION ROYALE DE NUMISMATIQUE DU CANADA est heureuse d'annoncer qu'elle a commandé la frappe d'une médaille pour souligner le jubilé de diamant de règne de Sa Majesté la reine Élizabeth II.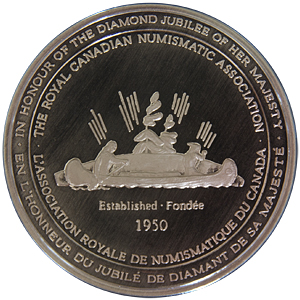 La médaille aura un diamètre de 44 mm. Son avers, réalisé par John Jaciw, un médailleur canadien de renommée, est orné de la couronne de saint Édouard. portée par Sa Majesté lors du couronnement, tandis que le logo de l'Association orne le revers.
Seuls les 100 médailles individuelles ont été frappés en laiton rouge (bronze). Le prix est 39,95 $ pour la médaille seule.*
Commandez votre médaille dès aujourd'hui en contactant le secrétaire exécutif (info@rcna.ca).
* L' ARNC se réserve le droit de limiter les quantités. Les prix comprennent les taxes. Le port et la manutention sont en sus.
| Article | Prix |
| --- | --- |
| Médaille en laiton rouge (tirage : 100 exemplaires) | 39,95 $ |
| Frais de port et manutention | 3,00 $ |
| Frais de port et manutention – Etats-Unis | 6,00 $ |
| Frais de port et manutention – International | 9,00 $ |
Commandez votre exemplaire des aujourd'hui